Listed below is a complete collection of characters that appeared in The Loser Song (Another Guy). It was one of the very first MossiMovies released, premiering in late 2008, and is one of few to only feature one MossiMember in it.
The Loser
Edit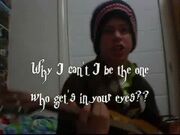 The Loser is the only character to appear in the MossiMovie. Loser is a hopeless man whose love for a girl has gotten the best of him. His situation isn't helped by the fact he has minimal income and relies on his old broken guitar for cash. In his final desperate attempts to earn the love of his life, he takes to the internet (in a cafe) to create a viral video, performing a song he wrote. Loser is helped out in the production by his only friend, who films and sings backup. The outcome of his video is never revealed.
The Loser is portrayed by Richoguy13.